Optimize Customer Relationship Management with Microsoft Dynamics CRM
Dynamics CRM is a component of the software suite Dynamics 365 from Microsoft. It is designed as enterprise software and focuses on customer relationship management, or CRM for short. The program provides you with many features that enhance your customer loyalty and communication. Target group are companies of all sizes. Dynamics 365 as a cloud solution is especially suitable for small and medium-sized companies without their own IT infrastructure.
The power of Dynamics CRM is that it connects to the other components of Microsoft Dynamics. In this way, the different divisions in which Dynamics is used are automatically networked. Communication between the different departments in your company, from sales to customer service, is also optimized. Your employees automatically receive all the relevant information collected by Dynamics CRM. Dynamics CRM also integrates into the existing software infrastructure. Other Microsoft programs, such as Outlook, Word, or Excel, interact easily with Dynamics CRM. On the one hand this makes the exchange of information very easy, on the other hand the integration succeeds without problems
Sales
Dynamics CRM for sales – efficient and practical
Your sales department can use Dynamics CRM to respond to customer needs. For example, helpful statistics are available for this purpose. Based on this, you can recognize the sales success of an article. The big advantage is that this data is all provided in real time. By integrating with Outlook, you also react to queries that have arrived by mail in Dynamics CRM.
The customer profiles in Dynamics CRM help you to understand your target groups better. In this way, Dynamics CRM helps you to analyze your customers. So it is possible to better respond to the wishes or to actively change the sales department, to make your customer base even more satisfied. The data is presented by Dynamics vividly and easily understandable in tables and graphs. Use search fields to define individual questions and get exactly the information you need.

Customer Service
Customer Service with Dynamics CRM – clear layout and customer-oriented
Personal and direct customer contact is very important for a modern company. At the same time it is a central point of CRM. In this way the customers feel in good hands. This contributes to the formation of a regular clientele. At the same time it increases confidence in your company and ensures a professional external presentation.
Microsoft Dynamics CRM actively supports you in improving direct customer contact. Communication with customers ranges from general information, to answering specific inquiries, to the handling of complaints. Dynamics CRM provides a central interface where all communications with customers are collected. Whenever you contact us, the system will automatically display the previous communication history with the respective customer. They communicate so quickly and professionally with customers and build up a reliable customer service.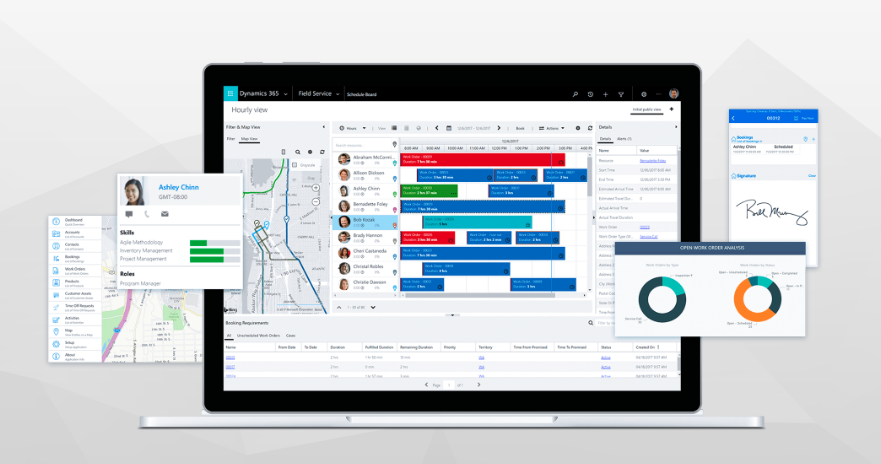 Marketing
Marketing with Dynamics CRM 365 – creative and accurate
Marketing plays an important role in every company. Crucial to the success and effectiveness of advertising is how well a particular audience is reached. Microsoft Dynamics CRM gives you a variety of ways to optimize marketing in your company.
Direct marketing is one of the popular strategies for making targeted offers to customers. The problem here is to identify the right customers and create a customized campaign. Dynamics CRM will help you in both matters. Based on different criteria that you either choose yourself or that are already preset, select a group of customers. Then the software gives you the opportunity to create campaigns and promotions. There are different channels available for this purpose. For example, create campaigns in social networks or send personalized advertising via email.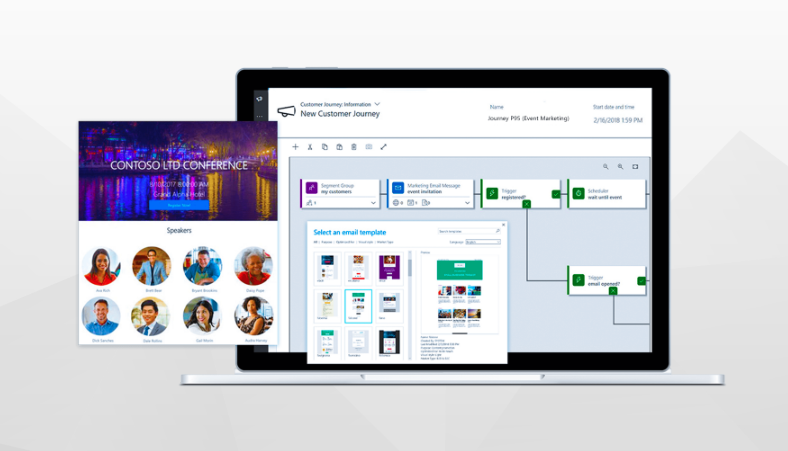 Projektmanagement
Project Management with Dynamics CRM – Structured projects structured achieved with plan
Implementing individual customer wishes is not always easy. Larger projects must be properly planned and monitored. Dynamics CRM provides you with comprehensive tools for planning, organizing and controlling projects. Dynamics CRM provides the entire project management infrastructure. Uniform structures ensure that your employees quickly get used to working on the platform. Dynamics CRM provides a detailed schedule and allows monitoring of budgets. The clear user interface, which is accessible to the entire project team, makes it possible to exchange information quickly and easily. Your employees have the respective milestones as well as the deadline and other important appointments in view at all times. In this way you optimize the workflow in your company and improve the utilization of your resources. At the same time, you will gain experience in project management and can react even more precisely to individual customer inquiries in the future. If you can specifically tell your customers how long a project will take to implement it and how much the cost will be, it will create a professional image and increase the trustworthiness of your business.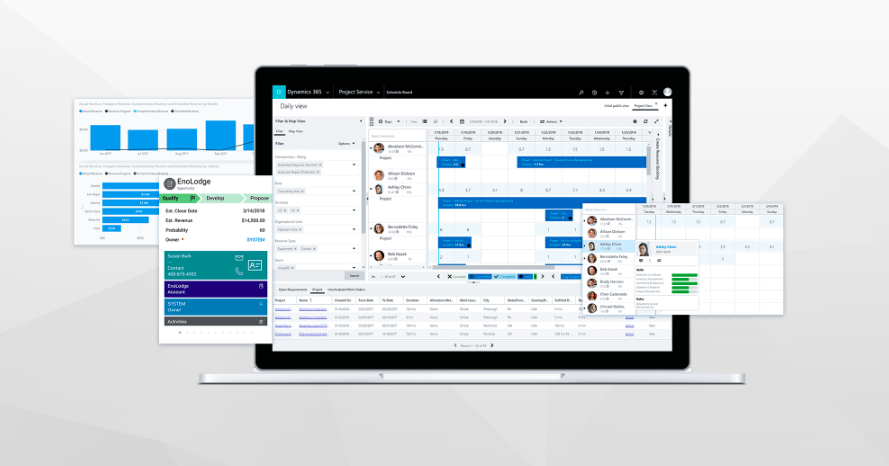 Call at our office hours
Monday to Friday
08:00 till 17:00 
Phone: +358 (0) 9 424 555 21
Book a personal consultation now