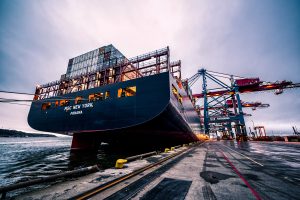 Digital transformation in logistics industry
Whether a vehicle fleet, transport goods or in-house infrastructure, the digitization of the transport industry enables you to build up a versatile, strong network. Thanks to digital solutions, you always have an overview of where vehicles and goods are located. This does not only serve the internal process optimization, but also creates additional trust with the customer thanks to reliable communication.
The digitization of the industry also includes the calculation of optimal routes, of course with adaptation to the current conditions. Through short and long-term analysis as well as statistical surveys, you benefit from reliable figures and find starting points to increase the efficiency of the operational process in long terms.
Growing potential instead of technical risk
The digital transformation offers your sales in particular new opportunities to meet the needs of private and business customers. With web solutions and apps, business partners and end customers even have the opportunity to become part of the network and gain overview of their goods transported. The same applies to inventory-related bookings, control and other aspects that not only relieve your company's sales department.
As with any technical changeover, skepticism is initially high, especially when comprehensive advice is lacking. Since the switch to digital logistics will become the absolute standard in the next few years, your competitors should not be allowed to have a corresponding lead today.